To date, the European food system and its agricultural policies have failed to adequately address urgent environmental, animal welfare, climate, and health issues.
In particular, the current levels of production and consumption of animal-based products are unsustainable as they negatively affect the health of both humans and animals, as well as the environment, climate, and resource availability. One of the key political instruments used to steer the direction of agricultural policies in the European Union is the Common Agricultural Policy (CAP). The current EU legislature has started negotiations around a reform of CAP for after 2020, which the next Parliament, Commission, and Council will continue. Now is the time to set a new course for the European food system over the course of the coming decades.
Three Pillars for a Sustainable European Food System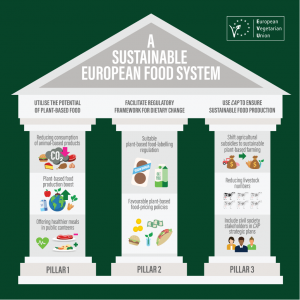 EVU calls for a paradigm shift in food and agriculture policy, aimed at reducing livestock production and the consumption of animal-based products while at the same time boosting the production of plant-based products for human consumption. To this end, concrete targets, impactful measures, and clear timelines must be defined by EU policymakers. These must culminate in an EU-wide strategy to reduce the use of animal-based products.
Taking all this into account, EVU proposes 'Three Pillars for a Sustainable European Food System'. Read our position paper here.