A new report published today by the  European Vegetarian Union (EVU) analyses some of the best public procurement practices across public canteens in Europe – demonstrating that plant-based meals are more affordable and have significantly lower environmental impacts.
The report showcases exemplary sustainable public procurement initiatives on a local, regional and national level, from nurseries to universities.
"With countries like Portugal and France making it mandatory for public canteens to have a vegan or vegetarian option, to Berlin Universities selling up to 90% plant-based meals or Bruxelles Environnement's Good Food canteen label, the diversified number of initiatives highlights the demand and benefits of moving towards plant-based diets", states Rafael Pinto, Policy Manager at EVU.
One key finding showed that replacing a non-vegetarian menu item with a vegetarian option is estimated to reduce GHG emissions by approximately 30%. A notable example of the positive impact of this shift was the University of Florence's Green Week, where the introduction of entirely plant-based menus for one week resulted in a 60% CO2eq emissions reduction and 20% in water usage compared to the original food offering.
On top of being more environmentally sustainable, plant-based options are significantly more cost-friendly. The report highlights a study of 6,000 canteens by the Observatoire de la Restauration Collective Bio et Durable that found daily vegetarian options cost 25% less than conventional choices. Based on European Commission and Nielsen data findings, the report also highlights the fact that plant-based foods are more price-stable. While meat prices rose by 17% and dairy prices by nearly 28% from December 2021 to December 2022, plant-based alternatives increased by only about 1%. 
According to Rafael Pinto, "Our report provides not just an overview of the challenges we face, but proposes concrete solutions, real-life recommendations and examples on how public procurement can be a catalyst for positive change, from reducing emissions to improving health. We are presenting these findings as a positive contribution to the European discussion on Sustainable Food Systems Law (SFSL)".
Within the foreseen SFSL, the EVU is calling on EU Institutions to establish minimum sustainability criteria in public procurement as well as a recommendation for 80% of the public canteens budget to be spent on plant-based foods.
According to the EVU, "This is in line with the planetary-health diet recommended by the EAT-Lancet Commission and would further help reach the goals of the Green Deal, Farm2Fork strategy and Beating Cancer plan".
To assist governments, national, municipal, and local authorities in their sustainability efforts, the EVU has launched an interactive map on its website, complemented by country fact sheets.
For full report access, please take a look at our page here or download the report here.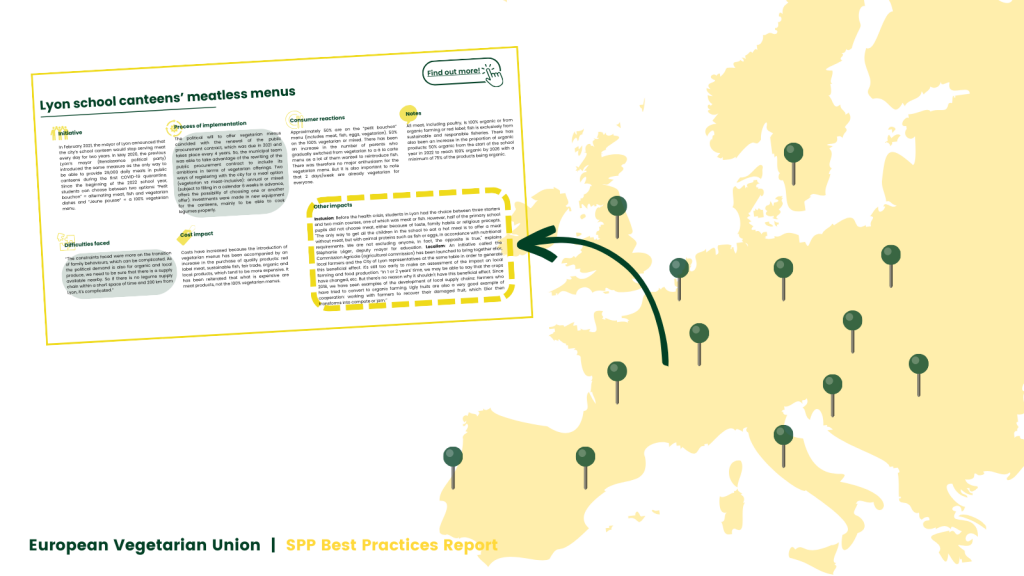 For media inquiries, please contact: communications@euroveg.eu